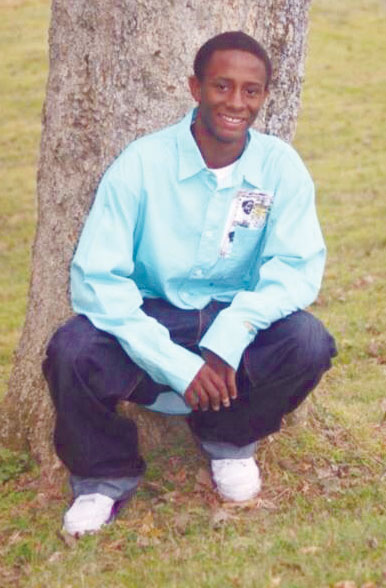 By Wade Linville – 
Ravye Williams touched the hearts of many during his time as a student/athlete of the Ripley-Union-Lewis-Huntington School District. Not only did Williams inspire other student/athletes with the talent, hard work, and determination in basketball and soccer, but he also served as inspiration through his positive attitude and charming demeanor.
In the classroom, Williams was loved by his teachers. On the basketball court and the soccer field, Williams was loved by his teammates and coaches.
There were many times when Williams displayed his leadership on the basketball court, motivating his teammates to give 100% as he did every time he hit the hardwood, or sometimes on the concrete at the caged courts in Ripley.
Williams served as an excellent role model for younger students of RULH, looked up to as a star high school athlete from youngsters throughout the school district.
Williams graduated from RULH High School in 2012, joining the US Army Reserves. The future certainly looked bright for the RULH graduate, but in July of 2012 in a horrific one car crash on US Route 52, Williams sustained injuries that would later claim his life.
As Williams fought for his life, members of the Ripley community gathered and they prayed.
Following his death, the community stood behind the family of Ravye Williams. His visitation was so large that it was held in the RULH High School gymnasium, and even the gymnasium was hardly large enough to hold the huge crowd. People lined up to pay their respects, and to remember the life of the stellar young man who had managed to make such a positive impact on others during his time on earth.
Following his death, family members and friends sought a way to keep Ravye Williams memory alive and a way to give back to the community that has shown his family such support during their hardship.
It was then in 2012 that the Ravye Williams Memorial Three-on-Three Basketball Tournament was created, an event to raise money for the Ravye Williams Memorial Scholarship Fund which provides scholarships for RULH student/athletes.
The caged courts in Ripley where Ravye Williams could often be seen competing in his favorite sport were later named after him – Ravye Williams Memorial Basketball Court.
In dealing with the pain of their loss, friends and family of the late Williams expressed themselves and their love for the late RULH graduate by painting on the outside courts along US Route 52 in Ripley, posting messages such as "Gone but not forgotten."
In past years, the Ravye Williams Memorial Three-on-Three Tournament has brought some of the toughest street ball competition to the area.
The Ravye Williams Three-on-Three Memorial Basketball Tournament returns to the caged courts in Ripley once again on June 30, marking the seventh year of the event.
Sign-ups will begin at 8am and games will start at 9:15am. Age divisions are 11 and under, 12 – 14, 15 – 18 and 19 and older.
A cornhole tournament and raffle are also being planned. Concessions and t-shirts will be available on site.
Please come out and support this event.