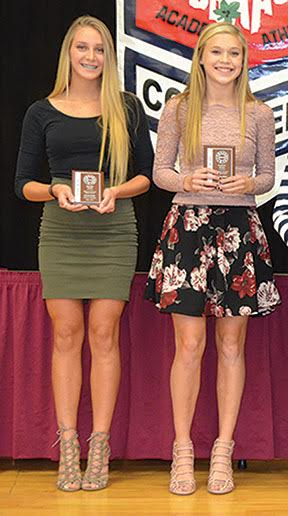 By Wade Linville –
They may just be sophomores, but Western Brown cross country standouts Sophie Leto and Carson Jones have already made the Lady Broncos' top 10 list of all-time female cross country runners.
Both ended their regular season this fall by earning spots on the Southern Buckeye Athletic/Academic Conference American Division First Team with Jones placing sixth in the SBAAC American Division Cross Country Championship Meet with a time of 21:17 and Leto placing seventh with a time of 21:22.
The two Western sophomores then ventured to West Chester's Voice of America Park where they would both record personal record times in the Southwest District Division II Tournament to qualify for the regional tourney at Troy.  Leto ran for a sixth place finish in the district championships with a personal best time of 20:30, a time that earned her seventh on Western Brown's all-time Lady Broncos' list. Jones posted a personal best time of 20:36 to place eighth in the district championships, a finish time that earned her ninth on the Lady Broncos' list of all-time cross country runners.
On a very windy day at Troy, Leto and Jones would cap off a successful fall season by competing in the Division II Regional Tournament. Leto placed 29th in the regional meet with a time of 21:11, while Jones finished 33rd with a time of 21:18.
Success for Leto and Jones this fall didn't come without some setbacks. Due to illness, Jones' training for her sophomore cross country season was delayed and she would miss the first three meets of the season before her strong finish.
Leto wasn't able to compete in the Lady Broncos' second, third, or fourth meets of the season due to injury, but would battle back to finish on a strong note.
The Western Brown High School girls cross country team is headed by long-time coach Jim Neu, who was very proud of his sophomore standouts for their outstanding performances this past season.