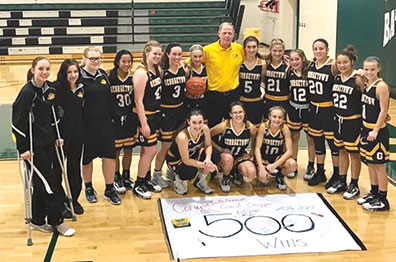 By Wade Linville –
In his 21st year as head coach of the Georgetown High School varsity girls basketball program, Bernie Cropper has recorded his 500th career win.
Croppers 500th victory came on Monday, Nov. 28 at Batavia High School, as his Lady G-Men claimed their first victory of the season by topping the home-standing Lady Bulldogs 38-18 in a non-league contest that saw Georgetown's sturdy defense hold the home team to only six points in the first half and 12 points in the second half.
"It felt great," Cropper said of his 500th career victory. "We played really well and it was a great win for us. They played so hard, especially on defense."
While the majority of Cropper's career wins have come over the past 21 years as the Georgetown varsity girls basketball coach, he was also able to record a great deal of wins at programs at other schools throughout his coaching career that began in the 1978-79 season.
Sophomore guard Kim Seigla led the Lady G-Men in the win over Batavia with 17 points.
Georgetown sophomore Kennedy Underwood finished the game just one point shy of a double-double with nine points and 10 rebounds.
Georgetown's senior guard Kassidy Seigla played a huge role in the win to finish with eight rebounds, five steals, three assists, and putting forth an excellent defensive effort that helped the Lady G-Men hold the Lady Bulldogs to only six points in the first half.
The Lady G-Men were scheduled to hold their first home game on Thursday, Dec. 1, as they play host to the New Richmond Lady Lions for a non-league contest.
For more on Cropper's 500th win, pick up the Dec. 1 edition of The News Democrat on store shelves now.