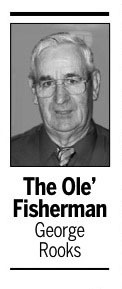 Howdy folks.
I am writing about the Senior Services program this time. I have been a board member for several years. It is one of the best services folks can have. My mother got Meals-on-Wheels for several years. My brothers, Herb and Frank, and myself paid for this service. If unable to pay, a person can still get the meals. With this service a person can stay in their home and have someone to see them each day when they deliver the meal. This is important so vote for the levy – your taxes will not raise. This is a renewal levy – the first levy was passed in November 1982 so it must be renewed every five years. Please vote yes for senior services renewal levy.
This morning I heard an owl holler. This is their mating season – it won't be long until spring is here. This is the time of year for baby squirrels and rabbits. If you are cleaning up your yard or garden where there is some tall grass be careful – the mother rabbit will dig a hole and line it with her hair for her babies. She will cover the hole with grass then come back after dark to feed the babies. I have been cleaning some places and uncovered the babies—just cover them back up and don't touch them. The birds will be looking for bird houses, holes in trees or any place they can build a nest. The barn swallows will build a nest in a barn or any building they can get too.
Spring for me is a wonderful time of the year. Everything is coming to life – it is the time to start gardening now. I have peas planted in cups that are about 10 inches tall. I also have lettuce, two tomato plants, and several kinds of flowers planted in the house. I needed to get something growing. I will be putting the walls of water in the garden to warm the ground up. Then I will put the tomato plants in them April 1. I have used them for several years and they work. One year the weather turned cold. The walls of water were frozen but the tomato plant was pretty and green – no damage.
The folks who have green houses are starting to get ready for spring – the Grants Farm have three places—one on state Route 131, one in Milford, and the other one at the farm on Bucktown Road. There is another green house on Tollgate Road out of Williamsburg – the Ellis Farm. He has all kinds of plants, herbs, mulch and other kinds of plants and flowers. His telephone number is 513–724–3930. He just spun honey out for people but he got busy.
Now something to brag about, the Bethel Girls Basketball team won the District Tournament – first time this has happened in school history. Congratulations Ladies and Coaches – this was wonderful!
I was talking to Mike at the Boars Head Bait Shop in Afton. He said the East Fork Lake was a little murky with the rain and wind. The temperature was in the 40's but the fishermen are catching some fish. He said folks that are fishing farm ponds are doing good—lots of nice bluegills. These folks have got some fine eating. As for me, the crappie and bluegills are some of the best eating. Now I know there will be some folks that this is not the case for, so eat whatever your choice is and enjoy them – good eating. Mike said the coyotes in Brown County are getting to be a problem so there were 150 teams of four people to a team – they started at noon on Saturday to noon on Sunday hunting for the coyotes. It was reported there were 45 or 46 killed. If you have a cat or small dog, the coyotes would kill and eat them. We have had two cats that the coyotes got. I try to keep Chester close to the house but he has a mind of his own. As I am writing this, I let him in at 9 a.m. He will eat some dry food then get in my chair and sleep until about 3 p.m.
Start your week by going to the house of worship of your choice and praising the good Lord. God bless all.
More later.