COLUMBUS — The six local wrestlers who qualified for the state tournament made the trip north to Columbus Thursday afternoon for the first round of tournament action.
Bethel-Tate senior Jeffrey Botts got things started in the Division III, 195-pound weight class against Atwater Waterloo junior Will Bolanz, who entered the tournament with a 46-2 record. Botts dropped the opening match of the tournament 8-2, sending him to the consolation bracket. He will face off against Genora Area's Matt Herrick later tonight.
Western Brown's wrestlers took to the mat once Division II action began. Jordan Hamblin started with a bout against Cuyahoga Falls CVCA sophomore Matthew Cardello. Cardello won the match via tech fall (16-1). Hamblin will wrestle one more time later tonight against Columbus St. Francis DeSales junior Domenic Carfagna (42-8) in the consolation bracket.
Jake Henderson then took to the mat for the Broncos in the 145-pound weight class and picked up the team's first win. Henderson jumped ahead of Farfield Union's Kevin Beal 6-2 before pinning the senior at the 3:59 mark of the match, advancing him to the quarterfinals. He will earn a rematch with Mentor Lake Catholic senior Joe Boley (34-7), whom Henderson defeated via pin in the state team duals earlier this month.
While Henderson wrestled one mat away, freshman Derek Spears was battling Wapokoneta junior Tyler Copeland (23-4). Spears fell behind 5-0 and couldn't recover, losing by an 8-1 decision. He will face Johnstown Monroe senior Hayden Bullard (47-11 in the consolation round later tonight.
Finally, the two Altman brothers ended up on adjacent mats for their championship preliminary matches. Eric Altman started his match first, losing via tech fall (18-3) to St. Vincent-St. Mary sophomore David Heath (42-11). The loss drops Altman to the consolation bracket, where he will face Lancaster Fairfield junior Michael Jude (39-7)
The final wrestler to compete in the championship preliminary round for Western Brown came away victorious. Jacob Altman earned a 4-1 decision victory over Granville junior Alex Eckles (30-16), propelling him to the quarterfinals of the 195-pound weight class. Altman will face Chesterland West Geauga senior Joe Fornaro (32-8) in the quarterfinals tomorrow morning.
This story will be updated as more matches are played tonight. Check back later for a complete recap of the first day of the Ohio High School Athletic Association Individual Wrestling Championship.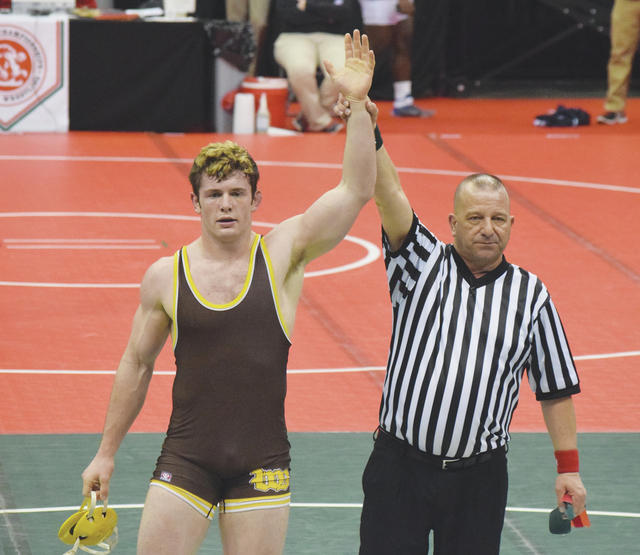 Jacob Altman defeated his opponent in the first round of the state individual duals 4-1 Thursday afternoon.
Western Brown's Jake Henderson advanced to the quarterfinals with a pin in his preliminary match.
Bethel-Tate senior Jeffrey Botts lost his championship preliminary match to Atwater Waterloo's Will Bolanz earlier Thursday afternoon. Botts will wrestle in the consolation bracket later tonight.