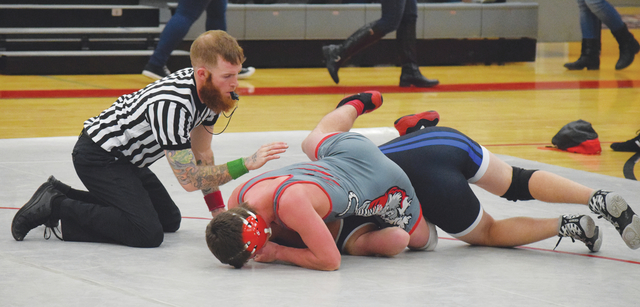 BLANCHESTER — The Bethel-Tate Tigers travelled north t0 Blanchester High School for the Division III individual wrestling sectional last weekend.
Freshman Trey Sander dropped his first-round match to Preble Shawnee's Camron Neal, sending him to the consolation bracket. Sander won three of his four matches in the consolation bracket and earned a fifth-place finish.
Brad Young also earned a fifth-place finish for the Tigers. Young fell to Clermont Northeastern's Sam Patterson in the quarterfinals and dropped to the consolation bracket, where he earned a pair of victories coupled with a loss to Twin Valley South's Caleb Worley in the consolation semifinals.
Justin Royer finished sixth in the 120-pound class, falling in his quarterfinal match to East Clinton's Austin Brock but rallying for a win over Twin Valley South's Levi White. Royaer fell to Williamsburg's Ezra Wallace and again to Brock in the fifth-place match.
Sophomore Matt Hall became the first Tiger to qualify for districts after he advanced to the semifinals via a 15-0 tech fall victory over Preble Shawnee's Steven Carter. Hall then fell to Dayton Christian's via a major decision to drop to the consolation bracket. He would defeat Greenon's Trey Blevins via a 15-0 tech fall before Blanchester's Clayton Schirmer pinned him, dropping him to a fourth-place finish.
Senior Justin Hixson walked away victourious in the 132-pound class by defeating Chase Goings from Cincinnati Country day via a pin in 3:41. Hixson then earned a 10-5 decision victory over Carlisle's Tyler Bentley and a 13-1 major decision win over Williamsburg's Trent Brewer in the title match.
Jacob Petry finished 1-2 for the Tigers in the 138-pound bracket, falling to CCD's Henry Danishek in the quarterfinals before rebounding with a pin of Blanchester's Luke Thaker. Carlisle's Gabe Bowser then ended Petri's season with an 11-3 major decision victory.
Owen Holtke finished sixth in the 152-pound class, defeating Blanchester's Ramiro Torres in the first round of the tournament before falling to Seth Henderson from MVCA 5-2. In the consolation bracket, Holtke defeated Deer Park's Colin Colyer and Purcell Marian's Keon Rahm by pin before Williamsburg's Randy Thornberry edged him 3-1. Holtke was pinned in the fifth-place match by East Clinton's Thomas Wright.
Jordan Newberry earned the fourth seed and a third-place finish in the 160-pound class. Newberry defeated CNE's Noah Pennington and Middletown Christian's Austin Sparks to advance to the semifinals, where top-seed Nate Golden from Williamsburg defeated him 8-6. Newberry then earned a 4-2 victory over Aiken's Elijah Kirby in the consolation bracket.
Senior B.J. Ratcliff won two of his first three matches via pins in less than a minute, sending him to the semifinals against Roger Bacon's Nick Van. Ratcliff earned a 6-3 decision victory and a trip to the championship match in the 170-pound class. He never played in that match, as Williamsburg's Dawson Davis won by default.
Wyatt O'neil drew the two-seed in the 182-pound class. He defeated Lockland's Ryan Nelson via a pin in 1:13 to advance to the semifinals. Once there, O'neil tech falled Roger Bacon's Zac Baur 19-0 efore falling to Preble Shawnee's Kolton Dillon in the championship.
Jeffrey Botts rolled through the 195-pound class, defeating his first opponent via a pin in 1:20 and Maderia's Kyle Kinbrough in the semifinals by a 17-5 major decision. Botts win the title via a 7-1 decision victory over Williamsburg junior Dylan Bailey.
The Tigers will be represented in district play by Kermit Beckworth as well. Beckworth defeated Greenon's Javen Moore by a pin at the 2:56 mark of their match to advance to the semifinals. He then pinned Preble Shawnee's Alex Steele in 3:30, setting up a title bout in the 285-pound class against Williamsburg's Brian Stears. Stears won the match 5-2 in overtime to take home the title.
In the team standings, Bethel-Tate finished second, 19 points behind Williamsburg. The seven Tiger wrestlers that qualified for the district meet headed to Troy for the district tournament on Feb. 26.