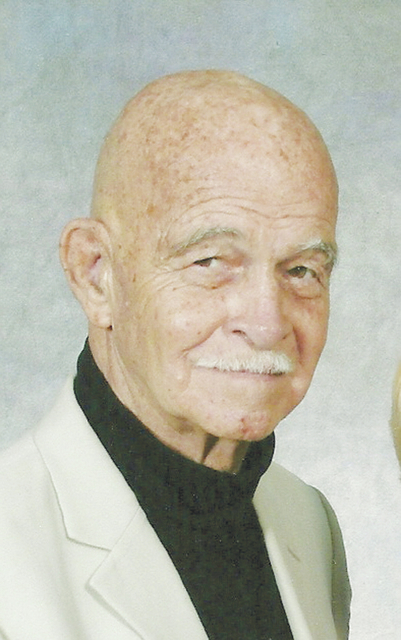 Earl David "Bud" Biegert, Jr., 85, of Mt. Orab, died Saturday, Aug. 29, 2015 at the Loveland Healthcare Center in Loveland. He was a retired sales and advertising executive for Rueben Donnelly and a Koren War Navy veteran. Earl was born Oct. 25, 1929 in Hamilton, the son of the late Earl and Mildred (Cox) Biegert. He was also preceded in death by one sister – Jean Biegert.
Mr. Biegert is survived by his wife of 46 years – Patricia J. (Stout) Biegert; eight children – Donna M. Covret and Doug Pentz of Cincinnati, Jeffrey D. Biegert and wife Keiko of Las Vegas, Nevada, Sandra L. Anastos and husband Steve of Montgomery, Texas, John B. Biegert and wife Karen of Goose Creek, S.C., Randall E. Biegert of Las Vegas, Nevada, Jennifer Blackstone and Gary Bond of San Antonio, Texas, David J. Ewald of Mt. Orab, and Daniel T. Ewald and wife Judy of Cincinnati; 14 grandchildren – Phillip, Lauren, Andrew, Orion, Oliver, Robyn, Christopher, Rachel, Bailey, Natalie, Samuel, Gregory, Kelli and Mariah; four great grandchildren – Burton, Anastasia, Maddox and Naomi; one brother – Edward C. Biegert and wife Jan of Minnesota; one sister – Barbara Williams of Columbus; one sister-in-law – Tommie Stout of Mt. Orab; one brother-in-law – William Stout and wife Judi of Amelia, and several nieces and nephews.
Funeral services will be held at 7 p.m. Thursday, Sept. 3, 2015 at Cahall Funeral Home in Mt. Orab. Visitation will be from 5 to 7 p.m. Thursday at the funeral home. Graveside services will be held Friday, Sept. 4, 2015 at St. Helens Cemetery in Beattyville, Ky. with military services.
If desired, memorial contributions may be made to the Wounded Warrior Project, PO Box 758517, Topeka, Kansas 66675.